TOP Places to Visit in Alaska
Alaska is an astonishing place for nature lovers, photographers and those who like to combine active rest with beautiful sceneries. If huge glaciers, wildlife and deep pristine forests are right what you want, go further.
Vacation in Alaska. Where to Go?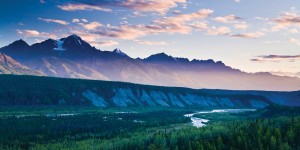 Whether you want to watch the Northern Lights, see the highest mountain in North America, drive along the 1,500-mile Highway, visit charming towns of Alaska, here is a long list of what to see in Alaska.
Denali National Park in central Alaska is definitely a place, everyone must see, with its variety of plants, animals and birds, beautiful mountain glaciers, forests and rivers. Denali, the highest mountain in North America, with its peak at 20,310 feet, is an enormously stunning natural wonder. For thousands of years, Athabascan people have been living in the park of Denali.
Ketchikan is the southernmost city in Alaska, on Revillagigedo Island located in the Tongass National Forest. You can go sightseeing, visit museums or try salmon fishing. If you are wondering what to see in Alaska, head to Ketchikan.
Mendenhall Glacier is a must-be place for your summer adventures. It is magnificently blue, its depth ranging between 300 and 1,800 feet. There many ways that tourists can approach and see the glacier: either kayaking or flying on a helicopter, as well as hiking or ice climbing.
Glacier Bay National Park is over three million acres of glaciers, coastlines, mountains, fjords, and rainforests. It is an awesome place for hiking, biking, fishing, and boating. You can also get to see the glaciers by taking a daily boat trip.
Hubbard Glacier is an enormous and constantly active glacier located in Wrangell St. Elias National Park. Within the last 30 years, its surges almost flooded Yakutat by turning Russell Fjord into a lake.
Talkeetna is a place where you should go if you want to experience what is called true Alaska. It is a historic town located at the base of the tallest mountain in the country, Denali. This is a town of miners, and even nowadays, you can find people looking for gold. Here you can go hiking, fishing, skiing, mountain climbing, and mushing.
Skagway is one of the tourist cities in Alaska with old saloons, sidewalks made of wood, shops, and people dressed up in the 19th century clothes. It is a part of Klondike Gold Rush National Historical Park.
Sitka is a small picturesque place in Alaska located in the Alexander Archipelago. With snow-covered mountains surrounding it, this place is perfect for summer adventures.
Homer is a small town on the shores of Kachemak. It is a great place for fishing lovers, moreover, it is known for fabulous nature, culinary delights, and art. Thanks to the Kenai Mountains, the city has a mild climate.
Northern Lights in Fairbanks is a mysterious phenomenon of colorful lights in the sky. It is also known as the Aurora Borealis or the Northern Lights. If you want to watch this beauty, come to Alaska, Fairbanks is the best place on the Earth to watch this.
Published: September 2, 2016