TOP-10 of the Best Theaters of the World
All the world's a stage and we're all merely players. Theater is always with us. Sometimes we are those who are playing on the stage, sometimes we are just visitors. Below you will find a list of the most stunning stages of the world.
Must-Visit Places for Theater Lovers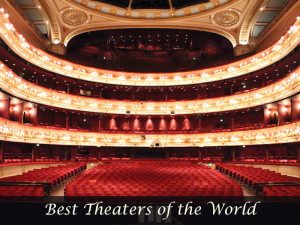 1 | Teatro Oficina in São Paulo, 1991
Teatro Oficina is a narrow long space located in the former theater with scaffolding wall of galleries. It was built by Zé Celso to stage his performances. The artist stood for the open spaces and designed his theatre in an unusual way.
2 | Great theatre, Epidaurus, Greece, 4th century BC
This is an open-air theater, which overwhelms people with its ancient simplicity, magnificent structure, stage, landscape and sky involved into performance. Its acoustics is already legendary, and its design is perfect for warm Greek climate.
3 | Grosses Schauspielhaus, Berlin, 1919
This is one of the most amazing theaters, which is unique because of its stalactite walls and light columns. Its designer Hans Poelzig is one of the best German experts in the sphere. When he was creating this architectural masterpiece, he aimed at keeping all the features of caves and circus. The theater has been neglected by now, so it is almost destroyed.
4 | National Theatre, London, 1976
Its author Denys Lasdun created a system of foyers, stairs, and balconies for the audience to move around watching the spectacular view of the city and the river outside. The concrete in the theater looks like wood adding the sparkle of illusion to this masterpiece of the British architect.
5 | Teatro Scientifico, Mantua, 1769
This theater looks like a tiny city inhabited by actors and the audience who can communicate and interact. There are sightlines located everywhere across the auditorium and at the stage.
6 | Hackney Empire, London, Frank Matcham, 1901
One of the amazing theaters is the Hackney Empire, all in drapery, gilt, and stucco. It was originally a variety theater created by Frank Matcham.
7 | Metropol theatre, Tarragona, 1908
Jujol's Metropol theatre was created for the Workers' Guild School. Its structure is mostly spare, with original ornaments on the maritime themes: fish, boats, waves, fishing equipment.
8 | Teatro del Mondo, Venice, 1979
This floating theater could be considered the most outstanding theater of the world. It was built specially for Venice Architecture Biennale in 1979 and ended its existence in 1981. Built of steel and in a form of a tower with steep interior, it resembled a 17th century church.
9 | Castle theater, Czech Republic, 1682 and 1766
This baroque theater still has sound effects devices, sets, and other stage machinery. It is small and slightly claustrophobic with an illusion of the sky on the ceiling. Trees and columns are used to create an optical distance in this miniature theatre.
10 | Radio City Music Hall, New York, 1932
Located at the Rockefeller Center, it got the nickname Showplace of the Nation. Its orange circles and lines represent a sunset. It is one of the landmarks of New York and it houses more than 6 thousand seats.
Published: November 8, 2016