Living in a Dorm: What You Should Know
Going to college usually means living in a dorm, which is often a remarkable experience and fun. This is the place where you learn to handle your own daily routine, meet new people and find out what a true college dorm life is. Of course, if you decide to become a college nerd and study hard instead of party hard, dorm will seem a bit uncomfortable for you because of the noise, constant flow of people and so on.
What to Do in a Dorm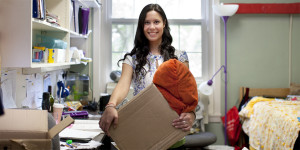 Dorm party
One of the must-do things when you're a student is visiting noisy college students' parties. This is the best student life experience you can get living in a dorm. There are a lot of thematic activities in the dorms, such as Pajamas, Traffic Light, Halloween and other parties. Being in Germany, don't miss out special bars in the dorms when they hold parties for international students as well as Erasmus parties. You will meet hundreds of people there, believe me!
Activities for international students
Try to take an initiative and organize a multicultural evening for your fellow-students right at the dorm. Why not? Such party can not only help you make new friends, get new experience, but also you may get to know more about different cultures, try foreign food and drinks, and have fun! Trust me, this is the best student life experience.
Barbecue party
If you throw a BBQ party, you'll be successful for sure, since a lot of people will show up! Who would refuse steaks, beer and yummy grilled vegetables? I wouldn't! So if you are still thinking what exactly to do at the dorm, get the BBQ party started!
Excursion
Remember, that there are students from other countries in your dorm and they would be eager to discover something new, meet new people and see new places. So if you are wondering what to do in a dorm, offer your mates to go to an excursion together! You'll definitely find someone willing to go out, travel and see different places when you have free time, so don't be shy and get acquainted with new people. There's also another way: if you want to go somewhere and have failed to find a good company, make a short ad like "Wanna go to Dresden. Come with me?". You'll surely get a couple of calls before you get to your room! The main thing here is the initiative.
Become a good cook
If you adore cuisine and cooking, it can become a great fun. You can cook some dishes for your friends at the dorm! Besides enjoying it yourself, such an event may be very attractive for others!
Love
Well, this is also an inevitable part of student's life. Be aware, that falling in love in college is something not always serious enough and long lasting, so if it happens, just take it for granted, with no pain if it ends.
One of the most important things in college life in a dorm is just to be relaxed and enjoy life.
Published: September 30, 2016