Kid's Birthday Party Trends
When your kid has a birthday, it's always an outstanding event. Preparations start a long before the party, and a child can't wait for the Day finally to begin. You expect guests no matter whether they are close relatives, your kid's friends with their parents, or the whole class. The choice parents usually deal with is where and how to celebrate. Some people prefer cozy home atmosphere, other rock the party in the entertainment hall. It's up to you. We offer some cool and trendy birthday party ideas that will come in handy anyway.
Birthday celebration ideas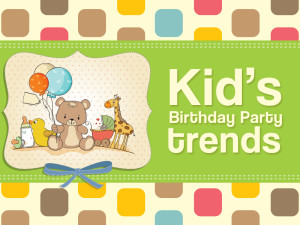 1.      Confetti balloons
Don't waste your time and lungs to hang dozens of balloons around the place. Surprise kids with a couple of big confetti balloons. Despite the variety of places to throw a party, these balloons work everywhere. Children will enjoy them!
2. Some help outside
I know how much you like to do everything on your own because it's for your beloved kid. Handling with decorations, invitations, party food and entertainment can end up with the total fatigue. So, you won't be able to rejoice with your child at the party. There's a perfect solution – find a children's entertainer or party host. You won't regret it.
3. Garlands
Forget about bunting and step into the epoch of garlands. They will help not only to embellish the place, but also to contribute to any party themes you like. You can choose tissue tassel garlands, pompoms, or paper figures that fit cars or space theme. Use your imagination!
4. Cakes
We're finally talking about yummies! Today naked cakes rule. Everything's descent, don't worry. The naked cake is un-iced so that you can see the cake itself. Usually decorated with flowers, it has a trendy rustic look. On the other hand, you can take the idea of amazing cute cake-toppers. They look great on the photographs.
5. Memories
Take care of the best memories of the Day. Free yourself from running after children with the camera trying to capture the best moments. Trust this task to a professional photographer. To make it better, create a photo booth. Kids will enjoy dressing up, as well as posing in front of a colorful wall or behind the huge photo frame.
Gather various ideas, add some unique notes, and create the unforgettable and amazing kid's birthday party!
Published: October 28, 2016